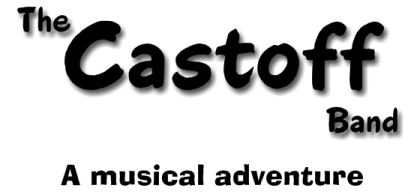 ---
"Music is what feelings sound like"

Author unknown



The Castoff Band plays very unique styles of music: a full program of traditional, Native American style flute music, a full program of folk and bluegrass sounding music, or any combination of the two. The music of the Castoff Band is so unique that you may be wondering just how the band got started playing such unusual kinds of music.

This band got started when two guys, participating in an historical reenactment, met and found out they had a common love for music, especially traditional styles of music. Brad played the banjo and truly loved Bluegrass, Native American and old-time folk music. Keith played the Native American courting flute and had a similar taste in music to Brad's. Brad and Keith spent a few hours in a wood shop hand-crafting a pair of matching Native American style flutes so that they could perform Native American style flute music as a duo at the many historical reenactments they attend each summer.



Keith later took up the Mountain Dulcimer and the two men decided to see if the Native American courting flute could be made to play along with the Mountain Dulcimer. The experiment resulted in a very unique and incredibly pleasing sound. Since Brad already played the banjo, combining that with the dulcimer was a logical next step. That resulted in a sound that was sort of bluegrass and sort of old-time folk. They tried slow, soulful songs; fast, toe-tapping songs and gospel hymns in various combinations of Native American courting flute, dulcimer and banjo. They later found that including very simple, traditional percussion instruments added even more to their already unusual style of music.





Before long, people who had heard them play, or heard about their unique music, began to request performances at various venues and events. Performing got to be so much fun, that Brad and Keith decided to form a band. The two men, being rather unusual and eccentric in their musical tastes, often felt like castoffs in the music world; so, the name "Castoff Band" seemed like a good fit and The Castoff Band was born.



Keith and Brad now play at home, in the park, at historical reenactments, and are often hired to play at various other venues. Sometimes they just show up, unannounced, at some public place and play just for fun. It's all about the music, they both agree, so you never know where they may end up playing. As long as they are enjoying making music, they play. As long as there are people who want to listen, they play. Their performances can be somewhat serious and educational, but are often just informal, by-the-seat-of-the-pants fun.

One type of performance The Castoff Band does is all Native American in style and instrumentation. Such performances are done on true, traditional style, period-correct instruments. Performances of this nature often include stories and information about the songs, instruments, and Native American musical culture. This performance style makes you feel as though you have stepped back into American history 300 years. Although the Native American style music played by The Castoff Band is traditional in style and instrumentation, they want to be very clear that no member of The Castoff Band is of Native American heritage and they will never claim to be. We just love Native American culture and music--that's all.

The band also performs old-time instrumental folk and Bluegrass music. Although such music usually consists of banjo and dulcimer, they also utilize a variety of period-correct percussion instruments. Some of the songs are original, some are period folk tunes, and some are just plain fun. This performance is like gathering for a front porch jam session back in the 1800s.

The band also has a collection of simple, old-time percussion instruments that they sometimes use to add audience participation to their performances.



If you want a very fun, enjoyable and unique sound that your audience will be talking about, you may want to

hire The Castoff Band

.